Type 1 diabetes will not stand in @SugerFreeCV's way of playing baseball. #Mets Vaughn shares http://t.co/JMLhBzxwPO pic.twitter.com/jpD5ddtqFA
— New York Mets (@Mets) February 20, 2014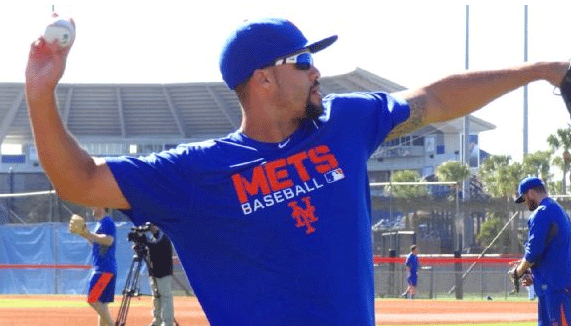 Via @mets
This tweet was shared by the Mets this morning, and linked to an interesting and inspiring article about Vaughn's journey to overcome juvenile diabetes, and to compete for a spot in the Major Leagues.
Vaughn, coming off of a solid season in AA-Binghamton for the Mets and after playing in the Arizona league this winter, is attending the Mets Spring Training in Port St. Lucie, Florida.
A couple of excerpts from the article:
Vaughn, who was diagnosed with Type 1 diabetes at age 11, wears an insulin pump in his back, left pocket to regulate his blood sugar, even while playing. He always slides on his right side because a needle with a catheter wrapped around it enters his body by his right glute...
As for the original symptoms that suggested he needed medical help, Vaughn said: "I was urinating a lot. I was always thirsty. I had no energy. I'd feel fine one second and then five minutes later I was like I was about to curl up in a ball. My eyes would get real dry. It's a hard thing to describe..."
Vaughn replaces the catheter every three days, but the insulin pump regulates his blood levels without him needing to inject himself.
We joke around a lot on here and other places. In reality, this is a great thing and helps young kids diagnosed with this disease realize there are no barriers holding them back, and no goal too high to set. Vaughn uses his status as an athlete to be a role model for children diagnosed with the same condition, admirably, and hopefully will continue to do so in the future.