In Saturday's New York Daily News, John Harper had a fresh and interesting take on the Mets future, suggesting that the team follow the example of the Cardinals and Dodgers. He had this to say on the subject:
In a baseball post-season that so far has been defined largely by young, power pitching, the Cardinals won Game 1 of the NLCS against the Dodgers here by using seven pitchers, five of whom are age 26 or younger.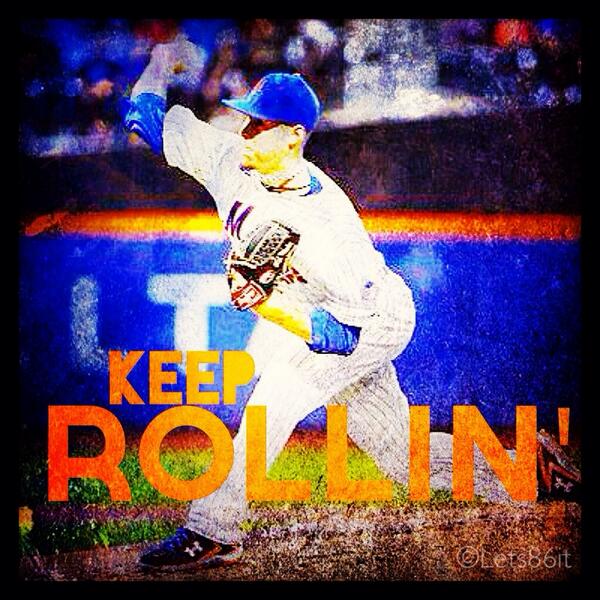 Picture by @lets86it. Check out her work on Twitter
Now they'll start a 22-year old, Michael Wacha, on Saturday, then likely another, Shelby Miller, in Game 4.
And somewhere, Sandy Alderson dreams of an October sometime in the next few years when the Mets are in a similar position, trying to win a championship on the strength of their young pitching... for now at least, this pitching-dominated post-season has further convinced the Mets' brass that it needs to be very careful about trading any of its young pitching.
This Harper guy seems like a real genius. Somewhere, in his office, Alderson read this article, surrounded by posters of Harvey, Wheeler, Montero, Mejia, Syndergaard, and whoever else you want to throw in there and thinking, "Oh... pitching. Thanks John Harper!"
Seriously, yes, this team should build around its young pitching talent. It's just that I find the writing of this article to be a bit... stupid, because I haven't heard anyone argue that the Mets
shouldn't
build around their pitching. They built a pitcher's park, have traded for and groomed what could potentially turn into the best rotation in the majors and we have to tell them to build around pitching? Just seems a little goofy to me is all.
A more interesting take from Harper would have been which one of these pitchers is the most expendable in a deal to fill some of the team's other holes. Including Niese in the long term, and even Dillon Gee in the short term, the Mets have more than a rotation's worth of very good pitchers in the system and plenty of other places they could use some real talent. On the flip side, I guess we do have an entire long winter to discuss that...